Conductivity measurement is a versatile tool in process control. The measurement is simple, fast, and most advanced sensors require only a little maintenance. The measured conductivity reading can be used to make various assumptions on what is happening in the process. In some cases it is possible to develop a model to calculate concentration of the liquid. Concentration of pure liquids can be calculated when the conductivity and temperature is measured. The preset curves for various acids and bases are commercially available.
SPECIFICATION
✅ MEASUREMENT RANGE: Simultaneously tests Conductivity & Temperature. in a quick, accurate and reliable manner. Measurement Range (EC): 0~19990 µs/cm, Temp: -50 °C~70 °C
✅ ACCURACY: EC-035 has a very High Accuracy of Conductivity ±2F·S & Temperature: ±1°C. It offers accurate results while using
✅ WATERPROOF & REPLACABLE ELECTRODE: EC-035 is equipped with Replacable Electrode which can be changed after warranty. Also it is a waterproof conductivity meter.
✅ 1 PONT CALIBRATION: It can be calibrated with the Buffer and Screw with 1 Point calibration whenever required
✅ APPLICATION: It can be used in wide range application of laboratory, Water Testing, Hydroponics, Aquarium, Water Testing etc
TECHNICAL SPECIFICATION of ERMA CONDUCTIVITY TESTER WITH TEMPERATURE DISPLAY
Measuring Range ppm: 0~19990 µs/cm

Measuring Range (Temp): -50 °C ~70 °C

Resolution ppm: 10 µs/cm

Resolution (Temp): 0.1 °C

Accuracy ppm: ±2FS

Accuracy (Temp): ±1 °C

Automatic temperature compensation: 0 °C ~50 °C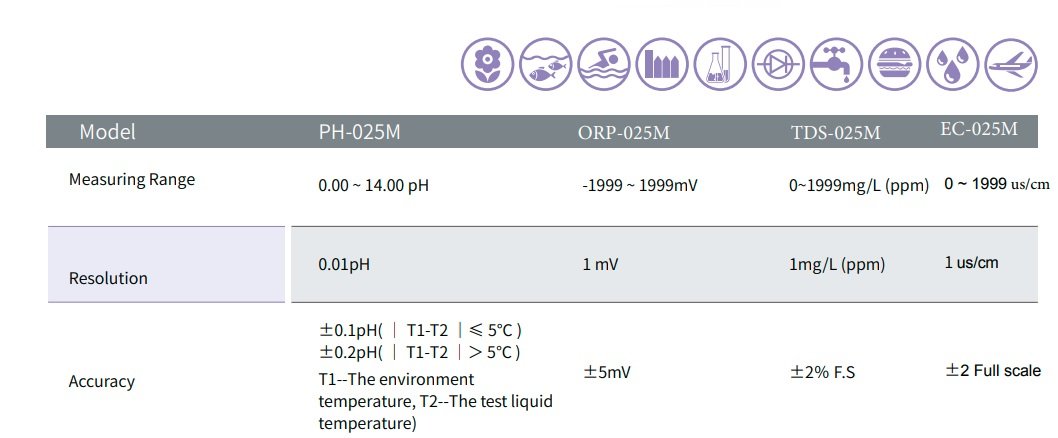 TEMPRATURE DEPENDENCE
The conductivity of a solution is highly temperature dependent, therefore it is important to either use a temperature compensated instrument, or calibrate the instrument at the same temperature as the solution being measured. Unlike metals, the conductivity of common electrolytes typically increases with increasing temperature.
The temperature compensation slope for most naturally occurring waters is about 2%/°C, however it can range between 1 and 3%/°C. The compensation slope for some common water solutions are listed in the table below.
APPLICATION
Water Quality, Food, Beer, Soil, Wine, Laboratory, Industrial, Water & Food Applications