Easy to read custom dual-level LCD with temperature display. Waterproof and designed to float. On-the-spot measurement with temperature display. The tester allows up to two-point calibration. Press the CAL key and the display shows the standard buffer PH needed for calibration. Immerse the PH electrode into the calibration solution as indicated and press the CAL key. The tester is now automatically calibrated. Measuring range 0~19990ppm Temp -50℃~70℃, Resolution 10ppm Temp 0.1℃, Accuracy ±2℅F·S Temp ±1℃, Display 4-digital LCD, Environment Humidity:≤95℅, ATC 0℃~50℃, Power Supply 4×1.5V(AG13). This instrument and built-in microprocessor chips, good looking, feature-rich, easy to use, with the following notable features: High accuracy 0.001. New designs, large screen displays. User-friendly interface, stability indicating identity. Three standard, two-point or single-point automatic calibration. Automatic temperature compensation, or manual temperature compensation of. Wide range of PH and redox potential measurements.
A highly accurate TDS meter with 2-liner display. It simultaneously measure and display TDS level and temperature. Featuring its Waterproof design and temperature units can be displayed either in °C or in °F. In addition, high sensitivity, fast response, and good repetition detachable TDS electrode can easily be replaced anytime. Just immersed the meter half pass the tip of the sensor or up to the middle of the body from the sensor tip. Temperature plays a very important role to ensure 100% accuracy in reading results. With built-in ATC TDS value is automatically adjusted in temperature between 0~50°C (or 32~122°F) so you don't need to worry about the effect of temperature change on TDS level.
A very useful TDS meter to test TDS level of liquids in various industries and applications such as Hydroponics, Aquariums, Swimming Pools, Spas and Food processing etc. Features: Large LCD screen with dual display: TDS and Temperature (°C or °F) Replaceable TDS Electrode Built with Automatic Temperature Compensation (ATC) Switchable °C and °F Easy to use with high accuracy Waterproof design that can withstand wet environment Compact and light weight for mobility Batteries and Calibration Solution (TDS 4.003 & TDS 6.864) included Guaranteed high quality and accurate testing results Specifications TDS Measuring Range: 0-19990ppm Resolution: 10ppm Accuracy: ±0.2% TDS Temperature Measuring Range: 0~55 °C & 0~131 °F Resolution: 0.1 (°C / °F) Accuracy: ±1 (°C / °F) Automatic Temperature Compensation (ATC): 0~50°C (32~122°F) Operating Temperature: 0~50°C (32~122°F) Batteries: 4 x 1.5V AG13 Button cell Batteries (included) Size: approx. 188 x 35 x 35mm Weight: approx. 98g 1 x TDS & Temperature Meter 1 x Care Box 4 x 1.5V Button cell Batteries 1 x English Instruction Manual.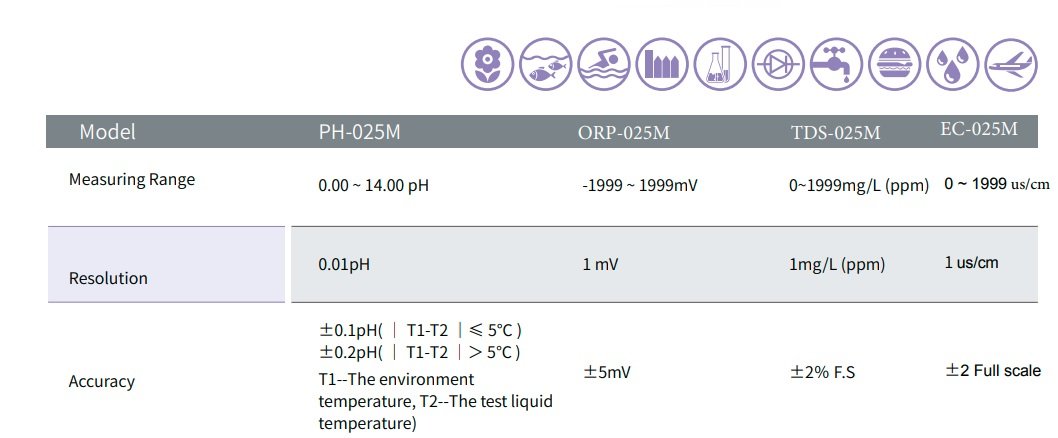 FEATURES
Adjustable TDS factor
Adjustable Temperature coefficient factor
Adjustable Normalization Temperature (Reference Temperature)
Auto & Manual Ranging Capability
Low battery indicator and auto power off disable
Calibration data for ranges can be retained & can be viewed anytime
With over & below the limit value indicator
Easy battery replacement
Pen size, easy to fit in pocket
Low cost design with high accuracy
Use to measure the pH & TDS & TEMP of solution.
Electrode probe can be replaced, ATC function.
Easy calibration of pH and TDS with just a mini-screwdriver.
Large and clear LCD with back light, easy to read and accurately measuring functions.
Apply in water sources, aquarium, hydroponics, spas, swimming pools and other water systems.
Automatic temperature compensation.