EASIER TO READ greater detail and accuracy with improved 320 x 240 resolution.
5 COLOR SCALE PALETTES make the readings more useful and easier to visualize. Choose from Rainbow, Iron Red, Cold Color, Black and White, or White and Black. 3.2″ Color Display Screen makes work faster and more accurate. Get jobs done right in less time thanks to the excellent integration of surface temperature and real time thermal imaging. BONUS 3 GB BUILT-IN MEMORY CARD included for convenient storage. Uses MICRO USB connection to display on laptop or computer. Easy to use with no learning curve. Simple push-button operation lets you start using it immediately to get better measurements and more accurate information and visualization. LIGHTWEIGHT WITH RECHARGEABLE BATTERY for 2 to 3 hours of continuous working time on a single charge. This is easy to hold thanks to the sure grip ergonomic handle and light 389 gram weight – less than one pound!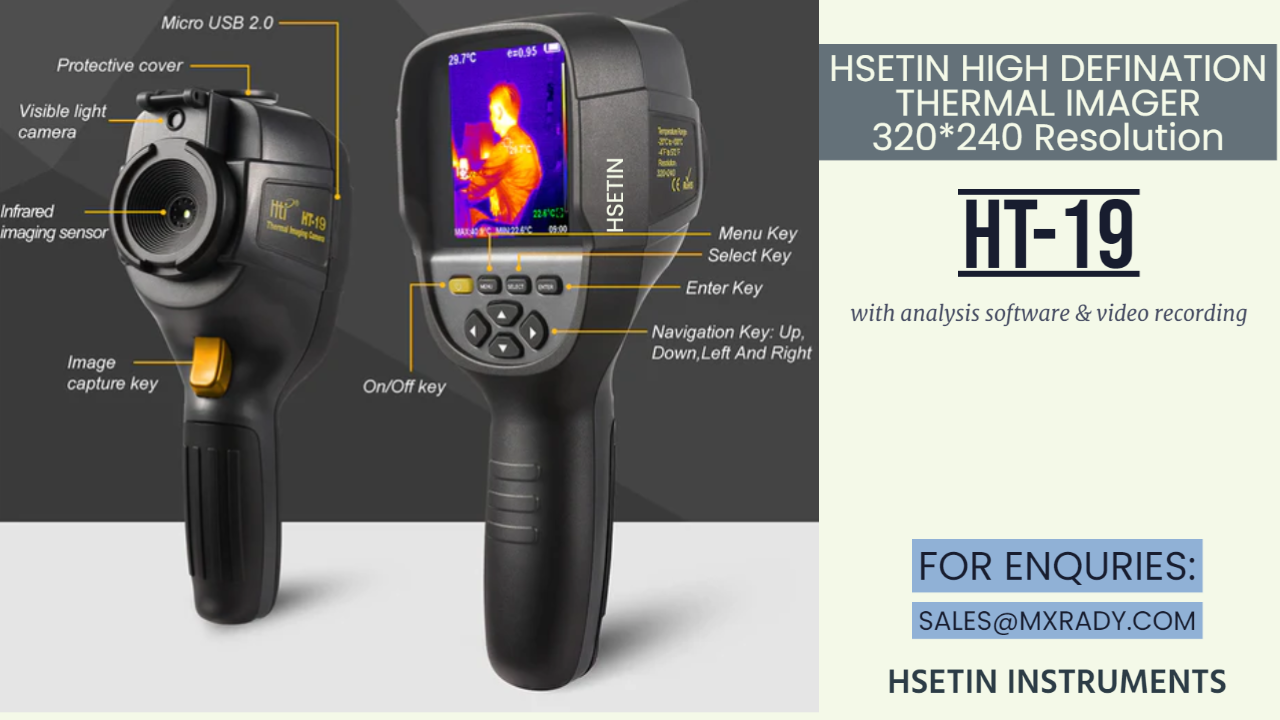 APPLICATION
This is the professional quality IR Infrared Thermal Imager used for home inspections, fire fighting, farming, electronics manufacturing, studying traffic, archaeology, and any other business, hobby, or science where accurate to 2.5°F temperature readings are required.
SPECIFICATION
1. Display:3.2 inch TFT color display
2. Resolution: 320*240
3. Total pixel: 76800
4. Visible image resolution: 300,000 pixel
5. FOV/Shortest focal length: 26°× 34°/0.15m
6. Thermal sensitivity:0.07℃
7. View option: The integration of thermal image with 25% step length and visible image.
8. Temperature range: -20℃-300℃ (-4℉-572℉)
9. Measuring accuracy: ±2% digital±2℃
10. Wavelength range: 8-14μm
11. Image frequency: 9 HZ
12. Emissivity:0.1-1.0 Adjustable
13. Focus mode: Fixed
14. Palette: rainbow, iron oxide red, cold color, black & white, white & black
15. Automatic power-off time: Selectable 5 mins/20 mins/not power off automatically
16. Battery type: Built-in chargeable 18650 batteries
17. USB: Micro USB2.0
18. Operating temperature: 0℃-45℃
19. Storage temperature: -40℃-60℃
20. Humidity: <85%RH
21. Image storage: Build in 3G (more than 20 thousand images stored)
22. Size: 223×105×90mm
23. Weight:389g
HT-19 Analysis Software