HT-9606 air quality detector used to detect the air quality for the 4 particle channels: 0.5um, 1.0um, 2.5um and 10um, with two detection mode: Quality inspection (unit of the ug/m3) and Quantity inspection (unit of the PC/L) Also, with the Temperature and Humidity measurement, optional function of the gas concentration detection, it can add 3 sensors. for gas detection. It is with the data logger function to record the historic inspection data.
Features

1. Semiconductor technology of ultra-low power 32-bit microprocessor, 24-bit ADC acquisition chip, so with the high accuracy.
2. 3.5-inch IPS industrial grade colour screen, displaying each parameter.
3. Channel sizes:0.5um, 1.0um, 2.5um, 10um.
4. Support the Temperature/ Humidity sensor.
5. Different mode adjustable: quantity detecting mode and quality detecting mode.
6. Data logger function, the capacity is 100000 group data.
7. Optional function of micro printer to print the measurement data. With the function of overvoltage protection, overcharge protection, short circuit protection.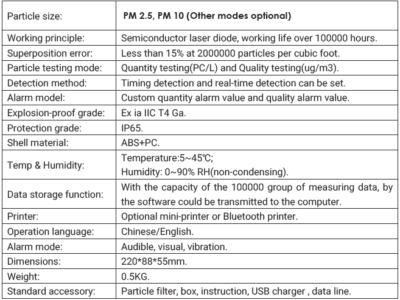 Applications
The Portable air quality detector can be widely used in the disease control centre, health. supervision, environmental monitoring, public area, family and other environment were need to detect the air quality detection.