Intuitive Balances Designed for a Variety of Needs
The KERRO® BL-P7C series Electronic Analytical Balance adopts the internationally recognized rear type electromagnetic force sensor technology of high sensitivity and high stability, compared with peer products has high quality and reasonable price. With creative fashion appearance, excellent texture, strict and exquisite craftsmanship, this series balance wins a higher quality and price orientation. This series is widely used in the industries of scientific research, education, medical treatment, metallurgy, agriculture etc. INTERNAL AUTOMATIC CALIBRATION BALANCE: full automatic internal calibration when the temperature variation exceeds 1.5 degree Celsius or the balance is not calibrated for more than 2 hours in order to provide more stable and accurate weighing results and reduce unnecessary operations.
With a high-resolution graphic display and intuitive features, BL-P7C analytical balances provide an outstanding solution for labs everywhere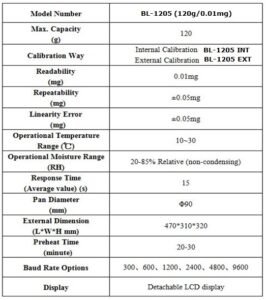 Features
• Rear type electromagnetic force sensor.
• All transparent glass windshield, samples can be seen entirely and clearly.
• Standard RS232 communication port, realize the communication between data and computer, printer or other device.
• Detachable LCD display, to avoid the balance shaking and vibrating when users press the buttons.
• Select the below hook weighing device.
• Internal weights one key calibration.
• Select thermal printer.
Application: Best used in Precise Weight measurement, in Research Fields, Schools, Laboratories. Best Quality.